Our Saints
The catechism of the Catholic Church says that by canonization, i.e. a ceremonial declaration that certain believers put into effect the virtues and were faithful to God's grace in their lives, the church acknowledges the power of the holy Spirit within them and strengthens the hope of the faithul by giving them the Saints as an example and as intercessors. This fully applies to the church in general. By analogy it also applies to local churches, the dioceses, and partial churches, mainly represented by monastic communities.
Our Premonstratensian Order is such a monastic community. It was founded by a Saint, one of the "fathers" of our order, St. Augustin. Many brothers and sisters have achieved sanctification of their lives through the order and some have even achieved official canonization. What about those Saints and beatified brothers and sisters of ours? Are they many or few? Do we need more of them?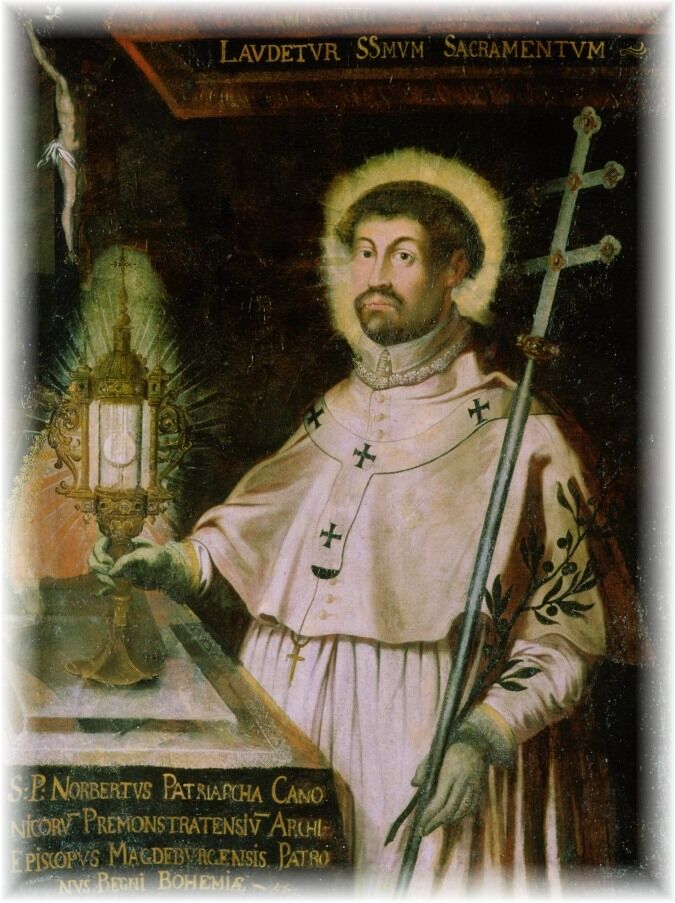 In the past our order was very numerous; it is not so nowadays, but compared to other communities, we have a lot of saints. It is an honour and a commitment for us. Premonstratensians have been very restrained in their interest in the canonization and beatification of their brothers and sisters from their very beginnings because they did not want the liturgical celebration of the saints to overshadow the celebration of the main mysteries of the faith.
In 1582, Norbert was canonized and in 1614 Gottfried was beatified. In 1657, the officium and mass of St. Gilbert were introduced, and in 1675 those of St. Gerlak, St. Siard, Bl. Bedřich, Bl. Heřman - Josef and Bl. Gertrude, in the same year, the process of beatification of Adrian and Jakub was completed. Finally, in 1728, the officium and mass of St. Evermod, St. Isfrid and St. Ludolf were introduced. In the same year, Benedict XIII, at the request of his friend, the procurator general of the order, Norbert Mattens, approved and corrected all legal defects in all matters of liturgical worship of the order's saints.
In 1839, the beatification of Bronislava followed, subsequently those of Hroznata in 1897 and Hugo in 1927, and the canonization of Heřman - Josef in 1958. In 1962, Rome gave approval for Gottfried and Bedřich to be referred to as Saints, while Gerlak was (probably pointlessly) excluded because of his disputed affiliation with our order. In 1998, Jakub Kern, a cleric from the Geras monastery in Austria, was beatified. At present, the canonization process of Bl. Hroznata, the patron of the Pilsen diocese, is under way.