Basilica
The Basilica of Assumption of Our Lady was constructed as a triple-aisle Romanesque basilica 56 m long and 22 m wide with a transept and two prismatic towers. This design did not last long, because the church was rebuilt in Gothic style after a fire in 1258. The flat wooden ceiling was replaced by a dome and the Chapel of St Ursula was added to the northern transept.
After being plundered by the Hussites and left to fall into disrepair for many years, Abbot Jan Lohelius started repairing and reconstructing the church in Renaissance style. Lohelius' successor, Abbot Kašpar Questenberg, had the basilica extended westwards and built a new façade. The Chapel of Our Lady of Passau was added to the southern transept.
In 1742, the basilica was severely damaged again, this time during the French bombardment of Prague. The building was given a Baroque overhaul under the leadership of Italian architect Anselmo Lurago, and the fruit of this project is today's church.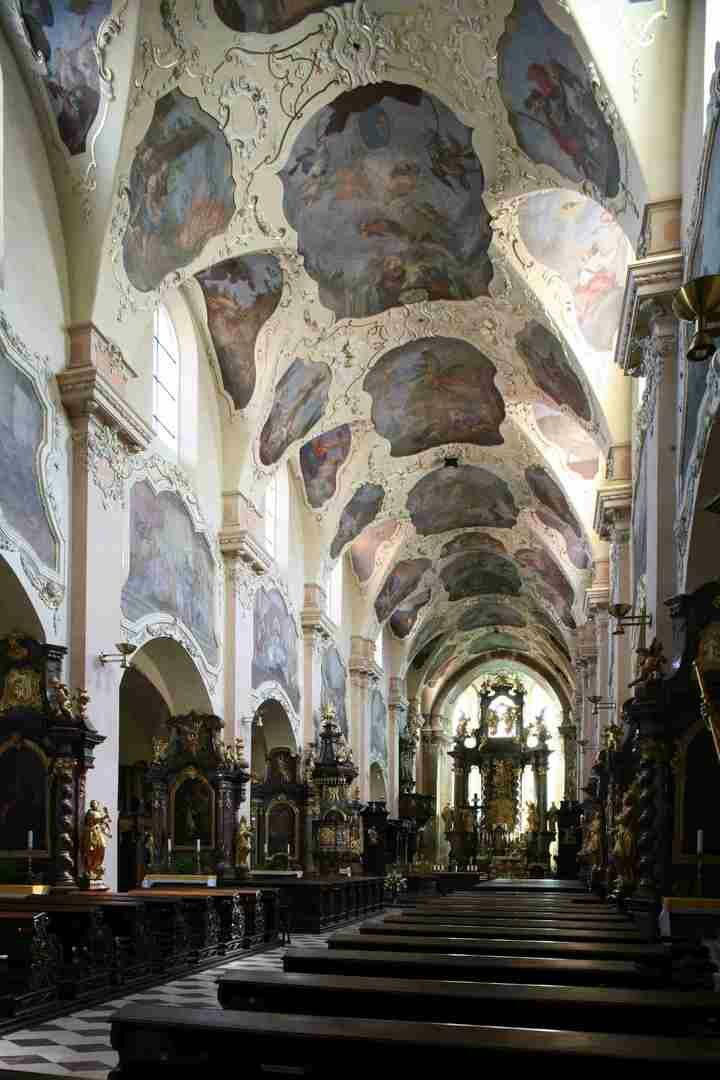 Today the basilica nave is 63 metres long, 10 metres wide, and 16 metres high. It ends in an apse, which hosts an altar of marble from Slivenec, made by Lauermann in 1768. There are ten side altars located at the pillars which separate the nave from the transepts. The sculptural work on the main altar was made by Ignác Platzer in 1768. Pictures by Liška, Willmann, and Palko adorn the ten side altars, devoted to the Nativity of Our Lord, the Sacred Heart of Jesus Christ, St John Nepomuk, Mary Magdalene, the Conversion of St Paul, St Martin, St Anne, St Augustine, the Bohemian Patron Saints, and the Visitation.
The new altar in line with the renewed liturgy of the Second Vatican Council is by Egino Weinert from Cologne.
The west side of the basilica ends in an organ loft, holding an organ built in 1774 by the Strahov Premonstratensian Lohel Oehlschlaegl. Mozart improvised on the organ when he visited Strahov in 1787.
The Chapel of Our Lady of Passau has been added to the basilica transept, and contains the tomb of General Pappenheim, a hero of the Thirty Years' War.
The vault of the church was painted in 1774 by Neunhertz, who created a cycle of frescoes there with motives of the Blessed Virgin Mary. Along the walls of the nave, in the cartouches by Palliardi, there are frescoes with scenes from the life of St Norbert by Neunhertz.
A chapel originally devoted to St Ursula but now to St Norbert is situated along the northern transept. Here on the main altar, in a gilded brass sarcophagus, the body of the founder of the Premonstratensians and later Archbishop of Magdeburg St Norbert lies buried in an ebony coffin. His relics were translated to Strahov by Abbot Kašpar Questenberg in 1627, and in 1873 they were transferred from the main nave of the basilica to this chapel, where they rest near the Eucharist up today.