Chancel of the Monastery Church in Averbode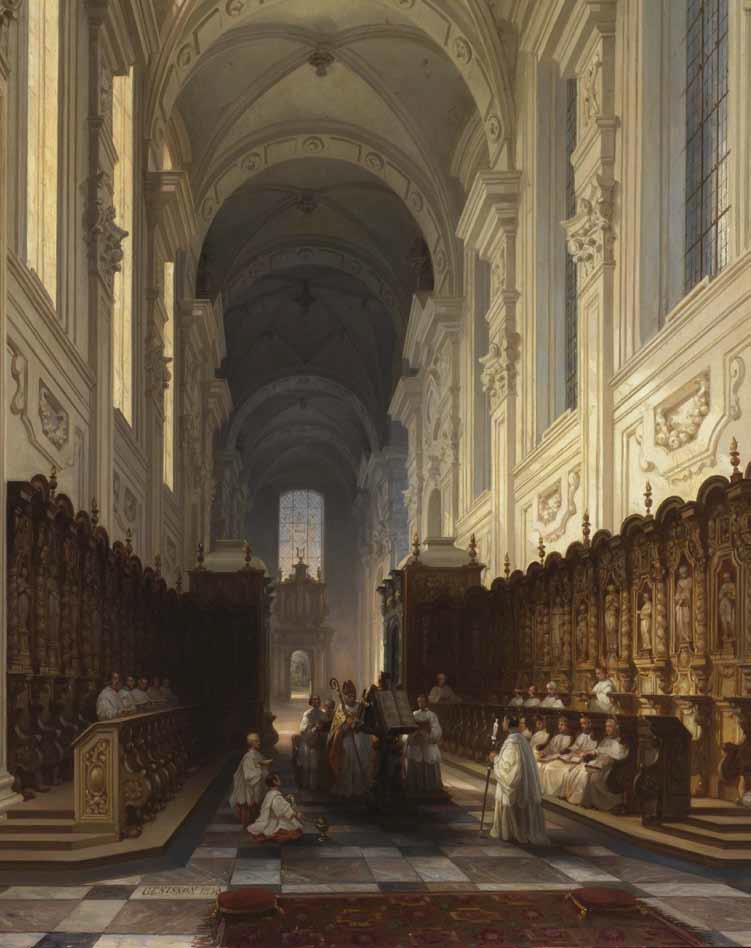 Jules Victor Génisson
(1805 Saint Omer – 1860 Bruges)
Chancel of the Monastery Church in Averbode
1853
oil, wood, 73.5 × 60.5 cm; O 950; acquired in 1857 for 300 goldens.
Jules Victor Génisson studied at the Royal Academy of Fine Arts in Antwerp with Mathieu and Philippe Van Bree. He was influenced by his education with painters of romantic historical scenes and he specialised in church architecture, particularly the Gothic style, in accordance with the period interest in this particular style. Among the characteristic features of his painting are a masterful perspective, a sense of detail and a space filled with spectacularly clad figures.
The painting captures a view inside the Premonstratensian Abbey Church (founded between 1143 and 1135) in Averbode in Brabant and the Premonstratensian Easter Vespers are taking place, in which the canons emphasize the importance of the Great Night and the resurrection of Jesus Christ. In the middle of the chancel, an abbot in his pontifical vestments is standing, surrounded by the cantors and members of the convent sitting in the pews. Shortly after it was created, between 1854 and 1859, the empty space over the entrance to the church was filled with a Belgian organ, the biggest of its kind at that time.
---