Christ Carrying the Cross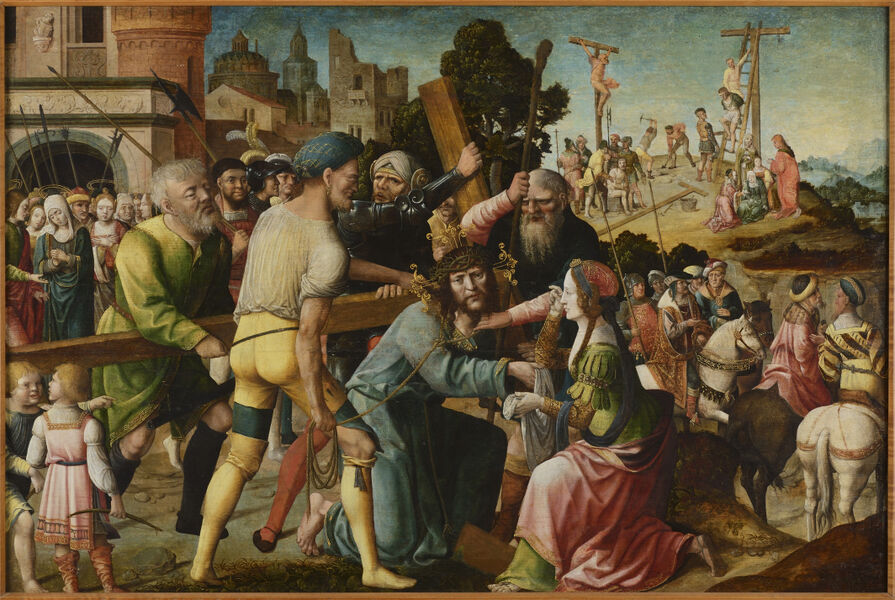 The Master of Antwerp
(worked in Antwerp at the beginning of the 16th century)
Christ Carrying the Cross, beginning of the 16th Century
tempera, wood, 70 x 104 cm; O 511; acquired 1850 from Magdeburg, before 1950 in the Abbey inventory.
This dramatic scene depicts the meeting of the tortured Christ carrying the cross and St. Veronica. Besides the influence of Antwerp painters Barent van Orley and particularly the Master of the Holy Blood and his painting Christ Carrying the Cross (now at Bob Jones University, South Carolina), the author was inspired by graphic art, in particular an engraving with the same theme by Martin Schongauer, and by the graphic art of Albrecht Dürer and Lucas van Leyden. The Flemish origins may be seen in the board with nails which is hanging from Christ's waist in order to wound his legs while walking or falling down, thus increasing his suffering. It is called a spijkerblok and can be found in Flemish mystical literature and art from the 15th century.
In 1850 the painting was acquired by Abbot Hieronymus J. Zeidler in Magdeburg. He received it in exchange for a painting by Josef Mrniak, a contemporary painter. It was intended for the local Church of the Virgin Mary that served the Premonstratensian nuns and from where, in 1626, Strahov Abbot Kaspar of Questenberk collected the remains of the founder of the Premonstratensian Order, Saint Norbert, and a year later they were placed in the Strahov basilica.
---