Saint Barbara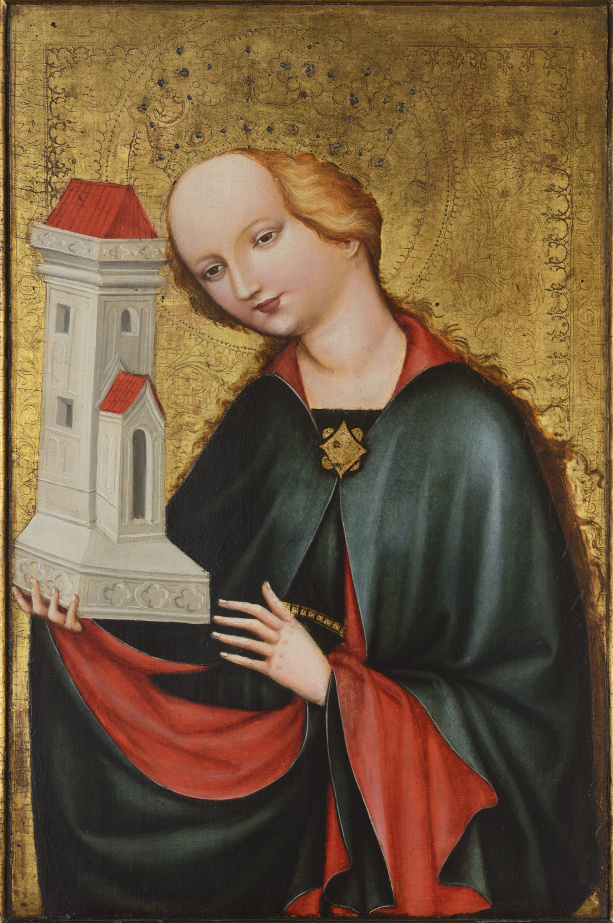 The Master of Vyšší Brod Madonna
(worked in Bohemia in the first half of the 15th century)
Saint Barbara, 1410
tempera, wood, 67 x 44 cm; O 533.
In Czech Gothic art between 1380 and 1420 a specific type of art emerged characterized by its system of opposites, the real and the imaginary world, called the beautiful style. The connection between the spiritual and the sensory side of life found its way to the fine arts. The typical style of painting consisted of special types of slim figures with cultivated expressions and elegantly draped robes.
The painting of the saint is refined, with a fine depiction of the fabric and the smooth shape of the face. The background of the painting is made of engraved gold foil while the back side has silver foil with golden varnish. Most likely the panel was not a part of the altarpiece, but was placed on the altar separately. It served for direct adoration of the Saint who was the patron of miners and children, protecting them from abrupt death. Recent research has revealed the first-class quality of the painting in connection with other preserved works from the circle of the Master of the Třeboň Altarpiece, a prominent representative of Bohemian painting from the first half of the 15th century, in particular the Madonna from the Vyšší Brod Cistercian Abbey. The painting probably served as a model for other paintings, such as St. Barbara from the altar at Kleinschwarzenlohe near Nuremberg.
---